Why use an ARLA Propertymark Protected Agent?
Elite International Real Estate Limited is an ARLA Propertymark member our director holds the member grade. 
Many landlords and tenants are unaware that the lettings industry is unregulated, meaning that effectively anyone can set up as a letting agency.
ARLA Propertymark is the UK's foremost regulatory body within the lettings industry, working to improve standards and protect consumers.
As an ARLA Propertymark member, we have had to fill a number of corporate responsibilities, which mean landlords and tenants will always receive excellent service and professional advice.
Using an ARLA Propertymark agent means:
Your money is protected - ARLA Propertymark members take Client Money Protection (CMP) seriously. Your money will be held in a designated separate bank account.

You're working with experts in the field - Propertymark qualified agents who will give you professional and high-quality advice

Arla Propertymark members undertake regular training and updates on complex legislative changes

Arla Propertymark members adhere to a nationally recognized Code of Practice, giving reassurance that your agent will be working to the highest standards of best practice

Arla Propertymark members hold membership to an independent redress scheme

Arla Propertymark members hold Professional Indemnity Insurance
By choosing an ARLA Propertymark registered agent such as Elite International Real Estate Limited you can have peace of mind that you are working with a professional agent that adheres to the high standards and requirements of ARLA Propertymark membership. As Elite is ARLA Propertymark we must comply with all relevant regulations we have clearly set out what we as agents will do for you as a landlord. Some fees are applicable to services please see fees for cost.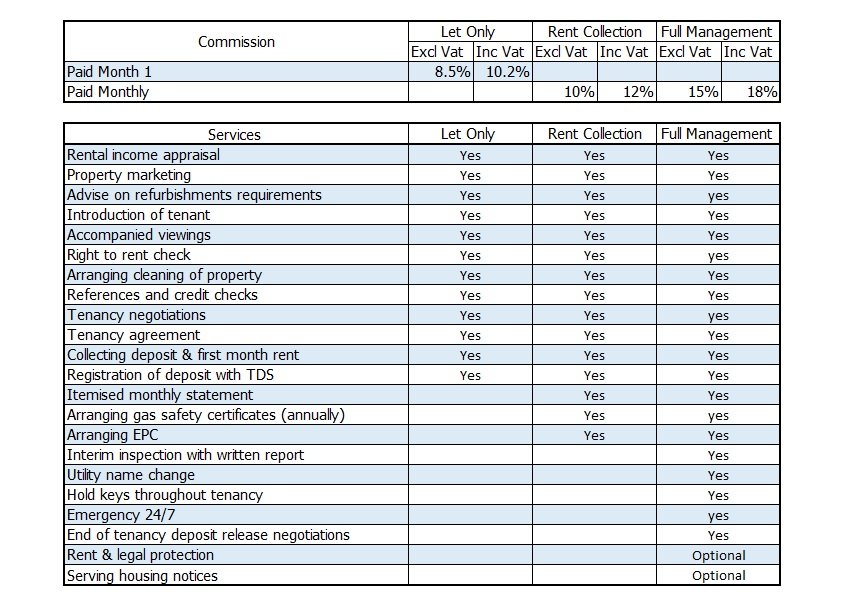 Things to consider before letting your property
It is illegal to charge tenants certain fees, any landlord or agent found to be in breach of the Tenant fee act is liable for a fine of up to £5,000 for the first offense then further breach within five years liable for a fine of up to £30,000 or prosecution.
Legal responsibilities
The main responsibilities include:
Ensure the property is fit for human habitation and free from hazards throughout the tenancy

Protect tenants deposits in an approved scheme

Provide a tenant on how to rent guide

Provide the tenant with a name and address in England and Wales where the tenant can serve notices is a legal requirement under section 48 Landlord and Tenant Act 1987

Ensure the property is kept in a good state of repair

Carry out a gas safety check and provided the tenant(s) with a copy before the start of the tenancy

Provide a copy of an EPC certificate to the tenant that must show a minimum rating of no lower than E is met

Ensure electrical installations and appliances are safe

Install smoke and carbon monoxide alarms

Ensure the tenant has the correct contact details for the agent including an emergency number.

You must ensure you have permission from your mortgage lender in place to let the property

You must obtain a property license if required
 Referencing 
We at Elite want you to get quality tenants so we reference ALL tenants with HomeLet who will carry out the following:
Credit check, including adverse history

Background search on tenant

Financial checks

Check their bank accounts are genuine

Cross-reference against HomeLet's default database

Previous landlord or agent checks

Employment checks to establish salary
Homelet also guarantee tenant eviction if they do not pay their rent within the first 12 month
Rent Guarantee Insurance
Elite also recommends our Rent Guarantee Insurance which covers.
Cover for the total monthly rent, no matter how many tenants are on the tenancy agreement




100% of the monthly rent paid for up to a maximum of six months from the date of the first arrears

Legal expenses up to £50,000 to cover eviction costs if the tenant is in breach of their tenancy agreement

Covers breaches of the tenancy agreement by the tenant, including non-payment of rent and expired section 21 notices

50% of the rent paid for up to two months after vacant possession has been obtained, whilst new tenants are found
This policy covers the whole property meaning the policy continues even when/if the tenants change
Getting your home ready for tenants
Most of our landlords are experienced but if you are new we have set out the basics below as points to consider, using us as agents we will advise you on how to best present your property. However, we recommend landlords read the How To Let Guide published by HM Government. 
Clear your property of all items apart from essential items of furniture if you are renting furnished, ALL furniture you leave must comply with the Furniture and Furnishing (Fire Safety) Regulations 1988, if you have blinds with cords they need to adhere to the blind and cord safety legislation There is a higher demand for unfurnished and tenants that contact us preferer unfinished

Decorate your property with neutral colours remember you are letting the space not living in it the tenant should be able to move in and make it their home for the next 12 months and if they like living there could renew annually.

All electrical equipment must comply with the Electrical Equipment (Safety) Regulations 1994 and General Product Safety Regulations 1994

All gas appliances must comply with the Gas Safety (Installation and Use) Regulations 1994, they must be serviced and checked annually with a certificate

Energy Performance Certificates are mandatory for all rental properties

Smoke detectors and carbon monoxide detectors must be installed in rental properties

We recommend that Maintenance Contracts are in place for all appropriate items

Instruction manuals should be left for the tenant's use

Professionally clean your property before let and expect the property returned in the same condition minus reasonable wear and tear.